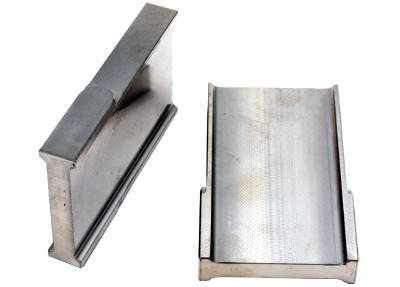 Replacement and wear parts are indispensable for the ongoing proper operation of a blasting plant.
For the operator however, the question is frequently whether these parts are actually needed in the version that is offered. Other, less costly solutions are often available as well. What is necessary has to be installed, rather than what is possible. We are happy to show you ways to lower your operating costs. After all, we do not focus on the benefits for a parts supplier but exclusively on yours. As you will see, the parts that have to be replaced frequently do not have to be that expensive.
Virtually all wear parts are in stock.
Examples of replacement and wear parts
High quality filter cartridges and wear parts from Blast & Consulting
If you operate blasting plants and are looking for replacement and wear parts of high quality, Blast & Consulting is your partner of choice. We have been working with blasting plants for decades and know how quickly they wear, and how soon repairs are required. We show you how to operate your blasting plant economically and offer innovative replacements, such as appropriate wear parts and filter cartridges. As a specialist for blasting plants from "Wheelabrator" and "Schlick", we supply the wear part you need at short notice. Replacement parts for blasting plants from "Schlick" and "Wheelabrator" are always in stock. Contact us for fast delivery of the wear parts you need.
Blast & Consulting – wear parts for your blasting plant
With wear parts such as filter cartridges, blades, guide sleeves and more, we ensure that your system runs smoothly. We advise you regarding the need for replacement and are happy to help you in case of problems. If your system is not working properly and a wear part is needed, the original version is not necessarily essential. There is sure to be a more competitive wear part for your blasting plant that meets all requirements just as well. We recommend and supply these items, and look after competent installation. This effectively reduces your operating costs. We are happy to demonstrate that a wear part for your blasting plant can be of high quality yet also competitive.
Examples of replacement and wear parts
With us you get high quality replacement and wear parts at fair terms. If you are looking for the appropriate replacement filter cartridge for your blasting plant, we can supply that as well as flat filter inserts. Our product line includes pre-accelerators, blade sets, spinners, guide sleeves and more. Screen drums for foundry plants, rotary tables – for example with a diameter of 3.5 m – and complete turbines are available from us as well. Most of the wear parts on our website are in stock and can be delivered to you at short notice. If you are looking for other parts for your blasting plant that you cannot find immediately on our website, please contact us. We will handle your enquiry quickly and professionally.
Blast & Consulting – services
In addition to filter cartridges and other wear parts for your blasting plant, we offer a selection of services. Our services include professional maintenance, repairs, filter checks and the fabrication of complete shot blast machines and spring steel blades. The products we manufacture are durable and tailored precisely to your requirements. If you not only have to replace a wear part or need a replacement part, but are also looking for competent plant engineering support, please contact us. We strive to solve your problem and assist you, for example with fault diagnosis and troubleshooting the operation of your plant.
Wear parts & more – conclusion
Blast & Consulting is your contact for blasting plant wear parts and replacement parts. From us you receive a precise replacement that is guaranteed to work properly. Thanks to our high quality but competitively priced selection, you lower your operating costs and keep your systems operational. Further information about wear parts, replacement parts and filter cartridges for blasting plants is available directly from us. You can reach us by e-mail or telephone.