Wheelabrator and Schlick shot blast machines
Your specialist for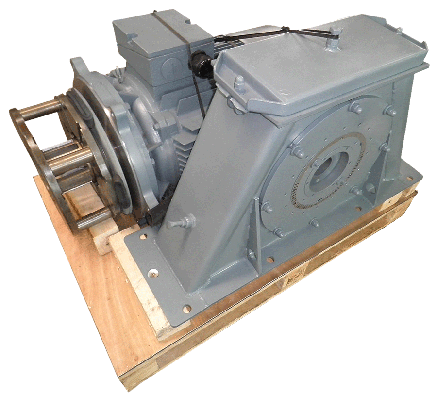 Maintenance & repairs
Manufacturer of complete shot blast machines
Replacement parts – filter check – production of durable spring steel blades
Do you operate one or more surface finishing systems? Then you have come to the right place!
Blasting plants have the unfortunate feature of disintegrating themselves. This results in high repair costs, frequent unplanned downtime, and considerable costs for replacement parts, materials and lost production.
All of which are avoidable.
We are happy to show you ways and means to operate your blasting plant cost-effectively. Such systems have been known to us for over 40 years. More than 30 of which were spent solving problems that could occur while using the systems.
Thanks to previous activities, we are specialist in systems from the manufacturers "Schlick" and "Wheelabrator". We keep replacement parts in stock for these systems and can deliver them at short notice.
Independently of system manufacturer interests, our services are guided exclusively by the value for the blasting plant operator.
You will see that visiting this page and contacting us pays off for you!
Blast & Consulting | The specialist for Wheelabrator and Schlick shot blast machines.
Blast & Consulting: your competent partner for Schlick and Wheelabrator blasting plants
Several aspects need to be considered in the operation of blasting plants to ensure a long service life with unrestricted functionality. We offer you high-quality Wheelabrator and Schlick replacement parts, and are your partner of choice when you want to place an order for the repair and maintenance of Schlick and Wheelabrator shot blast machines. With many years of experience and expertise, we offer comprehensive service for all sand blasting equipment manufactured by Schlick and Wheelabrator. With Blast & Consulting, you have come to the right place and have a strong partner by your side for maintenance and repairs. Benefit from our expertise, reliability and in-depth technical knowledge of the two sand blasting equipment manufacturers and their various models.
High-quality Schlick replacement parts and a comprehensive portfolio of expert services
If you need Wheelabrator or Schlick replacement parts, you should focus on lasting quality. As you know, shot blast machines disintegrate themselves over time and require the replacement of wear parts. You can protect yourself against enormous repair costs for your Schlick shot blast machine through regular maintenance and by having your Schlick blasting plant inspected for wear. With our services, you avoid downtime and the high costs caused by a production stop. We recommend the regular maintenance of Schlick and Wheelabrator blasting plants, because complying with the prescribed intervals precludes unnecessary repair costs. Engage us for the maintenance and repair of all sand blasting equipment from these manufacturers, and also the filter check as needed, to identify problems early on and avoid malfunctions of shot blast machines. With our many years of experience, we also fabricate complete shot blast machines and durable spring steel blades for Schlick shot blast machines for our customers. With us you pay no more than necessary, since we do not focus on the benefits of a classic parts supplier but on the functionality of your Schlick or Wheelabrator shot blast machines.
Rather than building what is possible, we build what is needed and help you reduce operating costs and find an effective, efficient solution to every problem. In our extensive portfolio of Schlick replacement parts at fair terms, you will find exactly the part that needs to be replaced in your model of sand blasting equipment manufactured by Schlick or Wheelabrator. You will be amazed how competitively we get your Schlick shot blast machine up and running again, and how much money you save going forward thanks to our tips.
Avoid high repair costs
With Schlick blasting plants or shot blast machines from Wheelabrator, you have chosen high quality and functionality. But Schlick replacement parts are far from inexpensive, so the unavoidable wear of shot blast machines costs a pretty penny. There is no need to rely primarily on original Schlick replacement parts to guarantee functionality. We show you how to reduce costs and choose competitive replacement and wear parts for sand blasting equipment from this manufacturer and from Wheelabrator. Having been familiar with Schlick shot blast machines for more than 40 years, we have been involved with finding professional solutions to problems in the course of system operation for over 30 years. We work for our customers, independently of sand blasting equipment manufacturer interests. In the maintenance and repair of Schlick sand blasting equipment, we exclusively pursue your interests as the customer. We guarantee the competitive maintenance of your shot blast machine. Since we specialise in Schlick shot blast machines and Wheelabrator blasting plants, we offer a high-quality solution to every problem. Contact us if you want to reap benefits and reduce the cost of system operation and repairs.